If your business is young and its initial phases, it needs more funding to invest in new storefront, purchase assets, and several other purposes. You might be thinking about the funding aids that you can use to get the cash.
Both business credit card and merchant cash advance (MCA) make the reasonable options. However, deciding which funding alternative is right might be overwhelming; especially if you are a startup. The article, in this regard highlights the defining features of both the options so you can make an informed decision.
Merchant Cash Advance vs. Business Credit Cards
Understanding Merchant Cash Advance
What is important to understand here is that merchant cash advance is different from a commercial loan. Instead, a MCA process involves a lender who purchases a portion of entrepreneur's future credit card sales and provides him/her a fixed-rate payment.
Business owner then remits a portion of daily credit card sales to repay merchant cash advance directly to the funder.
This feature sets MCA apart from business credit card as business owners do not need strong credit records to receive the funds. All they need is to provide MCA brokers with their bank statement to show that business is excelling and making profits. Businesses might need to submit some more related documents to apply for funds from MCA.
Understanding Business Credit Cards
Business credit cards work like personal cards in many ways. However, banks issue these credit cards to the businesses rather than directly to the people. Business owners get a credit line when they receive a business credit card. The credit limit on the business credit card can go up to $50,000, depending on the business success, its credit scores and plenty of other factors.
Like personal credit cards, business owners get an APR with business credit card. It determines and estimates the interest rate a business has to give if it fails to pay off the credit completely when billing cycle ends. This limit is approximately 15 to 20 percent, depending on the bank a business owner has chosen. However, know that businesses only pay interest if they do not repay their credit amount in full.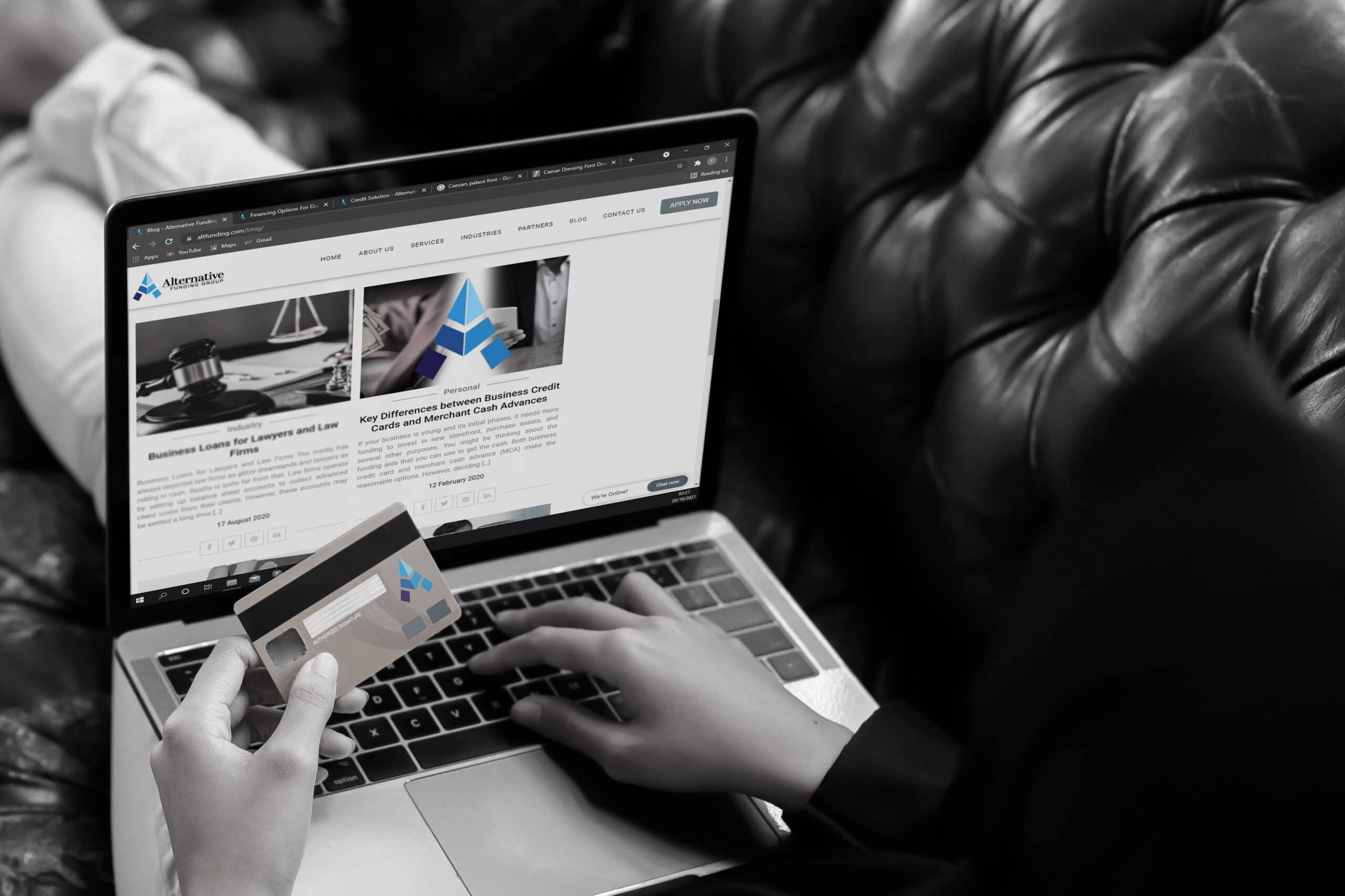 Merchant Cash Advance or Business Credit Cards- Choosing the Right One
Choosing between business credit cards and merchant cash advance depends on the credit score and credit line you have. Not only this, there is a myriad of other factors that are important to consider when you choose the most suitable funding option for you business.
If you want some extra perks and reward points, and have sufficient cash-flow to pay credit each month, business credit cards make a good option. But remember that if you miss out a payment for any reason, it will be added to your interest.
However, if your business does not have good credit and you need a flexible funding solution to get cash for running operations or maintaining cash-flow, MCA is the right option. It suits the needs of young businesses as they do not have the best credit scores.
Final Verdict
Regardless of the option you select, it is important to consult professionals. Alternative Funding is a merchant cash advance broker that has years of experience in the relevant field of business funding and we can provide you with the best funding solution for your business needs. Thus, contact the experts to explore your Business Funding options.