If you're searching for business funding for your business and have exhausted all of the tried-and-true options, don't stop searching yet. There are plenty of alternative funding options available. However, it's a tough decision to make to determine which alternative funding solution to apply for to get the quick business funding you need.
Why Select An Alternative Funding Option?
Here are four reasons businesses select alternative funding for their business funding needs:
You already attempted and were denied a traditional bank loan, investment, or line(s) of credit.
Your business credit score is less than desirable, which happens a lot after all businesses have been through in the last 18 months.
You need to obtain quick business funding with cash in hand within days.
You live life on the cutting-edge and know the rewards might be worth the risk.
Pros and Cons of Alternative Funding For Your Business Funding Needs
Crowdfunding
If you have an extensive personal network of loyal fans and followers, crowdfunding could be an option. But, again, it's a human-to-human exchange.
Pros
They do not expect to get a share of ownership in your business like a traditional investor would be apt to receive.
Crowdfunders do not receive repayment.
Cons
You publicly showcase your business idea, asking individuals to make a small personal investment, typically with no guaranteed return.
It could be risky to broadcast your idea with possible naysayers while giving your business the chance to discover backers.
Crowdfunding is time-consuming and a lot of work.
Contributors expect a perk or gift for their contributions. At a minimum, you will need to send a thank-you note.
You will need to pay taxes on any revenue from the crowdfunding venture.
Peer-to-Peer (P2P)
P2P borrowing connects investors with businesses seeking backers.
Pros
There's no involvement of a traditional lending institution.
You can pay back early with no penalties.
It's completely online, which can make it quicker.
Cons
There are very few regulations, so there's a risk with knowing if the person you are dealing with is trustworthy.
Your credit score will matter with this type of investment.
Borrowing From Friends and Family
The friends and family route can be a viable option depending on your relationship and its strength.
Pros
You might get generous payback times.
You'll most likely get low interest or interest-free financing.
The terms are flexible depending on what you and your friend/family member establish.
Cons
It could be awkward even to ask or be late on a payment.
If you cannot repay the loan, you could be causing financial pressure on a friend or family member.
Professional Alternative Funding Solutions
If crowdfunding, P2P, and leaning onto your family and friends for help is not the best business funding solution for your needs, consider selecting alternative funding from a reliable, proven source that could be the choice you need.
Alternative Funding Group
We get it. You need capital and you need it now. So count on us to provide an easy-to-navigate online application, quick approvals, and fast disbursement of the business funds required to move forward.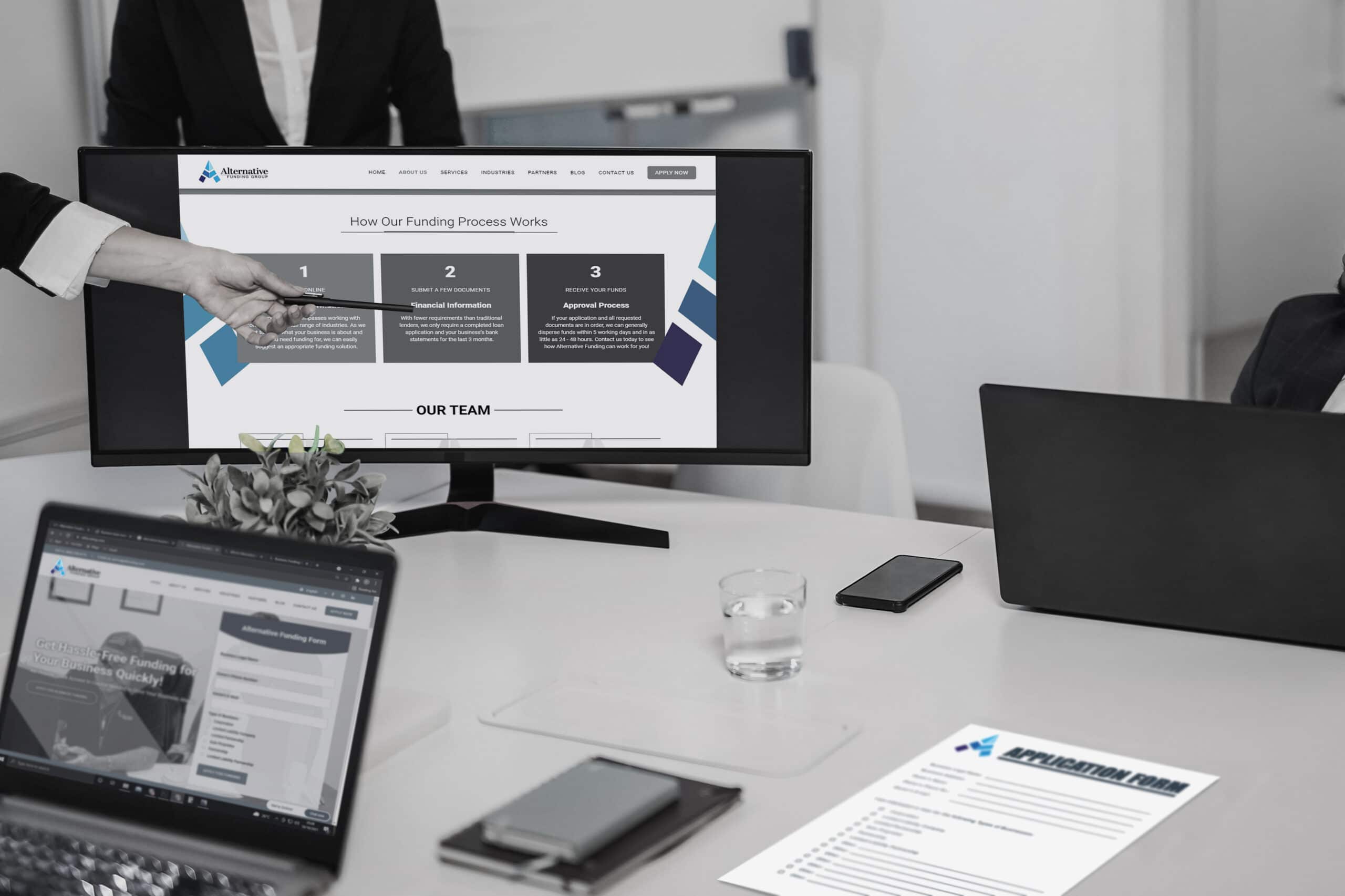 Pros:
Easy
Quick
And as of October 4, 2021, we have financed more than $233,585,942 for small and mid-size enterprises (SMEs).
Cons:
You don't have the money needed for business growth and need to obtain business funding.
Big dreams take risks, and sometimes, the risk is worth the reward.
Here are some of the alternative funding services we provide with quick business funding access and an easy-to-navigate online application. Read a summary about each one of these hassle-free funding options and see which one will help move your business forward.
Merchant Cash Advances
A merchant cash advance is a business funding option to consider if credit card payments are accepted through your business. However, when you receive a merchant cash advance, you will need to make regular payments based on your credit card sales.
Pros
Cons
Short Term
You're paying back a daily percentage of your credit card sales.
Working Capital Loans
Every business has good and bad times, but seasonal businesses might need help to cover operating costs during the slow season.
Pros
This is a quick fix when you know the next season brings your revenue.
Cons
Unlike other types of alternative funding, you cannot use these funds to invest or purchase long-term assets.
This is not to grow your business. It is only to keep it afloat.
Higher interest rates
Mezzanine Loan
A mezzanine loan fills the gap when business funds are needed for a significant project, and traditional lenders are unwilling to provide the required money. Mezzanine financing is a hybrid of both debt and equity.
Pros
Tax-deductible interest rate
Flexible repayment terms
Cons
May have to sacrifice equity
High-interest rate
The Alternative Funding Group provides many other business funding solutions, including but not limited to:
There are many reasons a thriving company needs business funding. At Alternative Funding Group, we understand the various reasons why business funding needs to be more accessible with quick approvals and fast disbursement of funds. Our track record shows that we provide business funding when companies need it most.