Have you ever thought about what could happen on the first day of your business in 2022 or 5 years from now? What will your business look like? What will it be able to do that it can't do today? How about 15 years from now (2027)? Now the tricky part is back to 2022. How does your business get to the place where it can perform on that day? That's precisely what we need to figure out. I'm here to give you some tips and advice on creating a plan.
It's a new year; where are you at with your funding goal?
New Year, New Goals. So many of us start the new year to lose weight, make more money, or stop smoking. We like to believe that these goals can be achieved in the next 12 months, but often they don't happen.
As you enter the new year, it's a great time to reassess your business funding goals. Are you on track with where you want to be? Where did you start your business, and how far have you come? What do you hope to accomplish in the coming year?
Log into your Business Account and Start your Business Plan today!
Trying to figure out funding for a startup can be even more nerve-wracking than setting up your accounting system. Therefore, you need to have a game plan going into the new year so that you will be prepared for whatever comes your way.
A great place to start is by writing down your funding goal for the year. Whether it is $5,000 or $50,000, write it down. But, more importantly, know why that number is important for the success of your business and how much time and energy it will take to get there. The clearer you are about your goals and expectations, the easier it will be to achieve them.
Having numbers in front of you as motivation and targets will also help keep things on track throughout the year. If you hit a small roadblock here or there, having a plan can help alleviate some stress and help keep your business moving forward. We know it isn't always easy to meet your business funding goals, and we want to help you get there. You have come such a long way since you started your business; why not go further.
Alternative Funding Group, who they are and how they help your business succeed
Alternative Funding Group helps businesses get the capital they need to start and operate successfully. We work with businesses in all industries, not just one.
Getting a business loan from a bank can be extremely difficult and time-consuming. Banks are stringent in their lending policies today, so the chances of getting a business loan from them are very slim. The good news is we can help!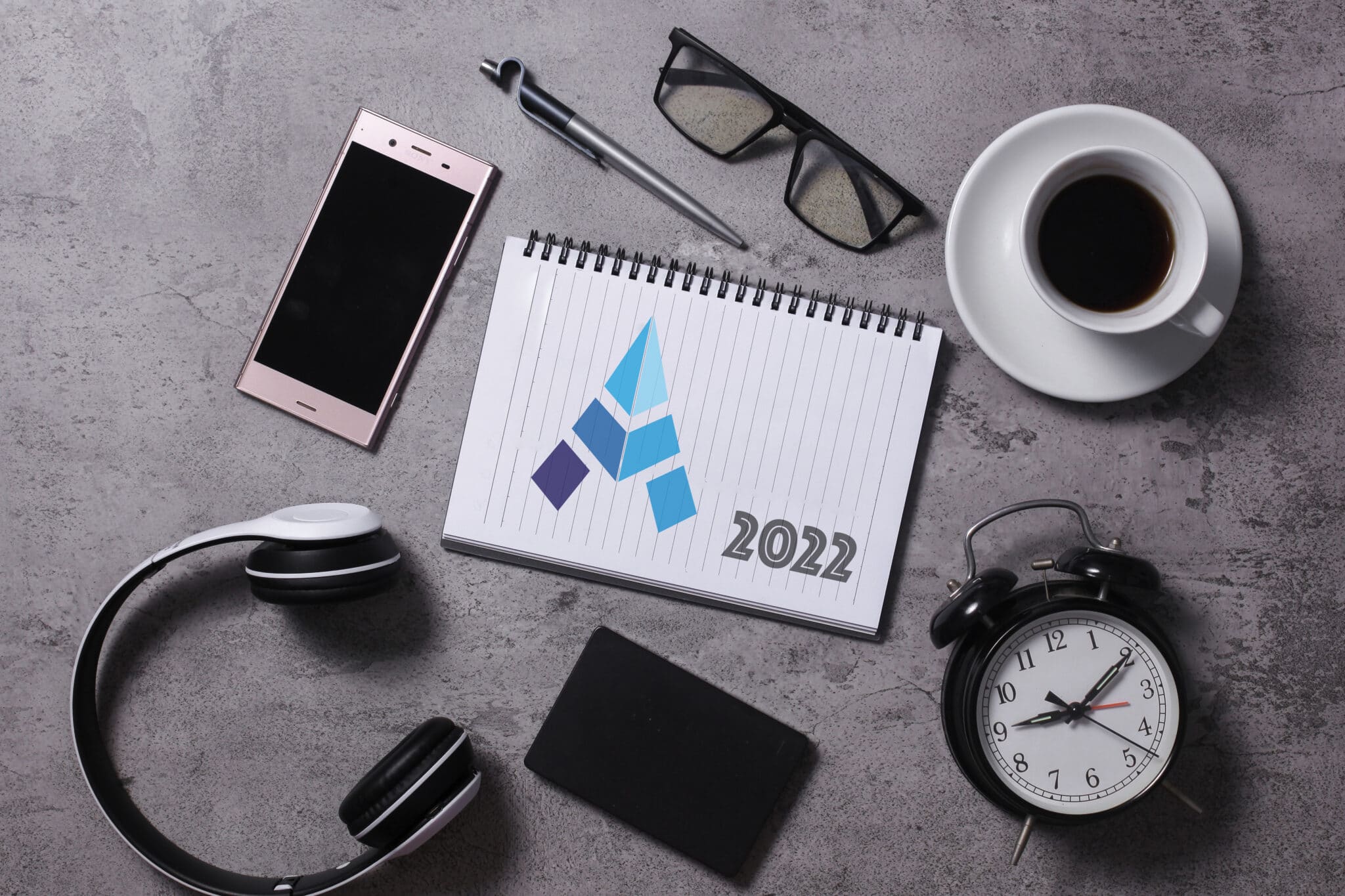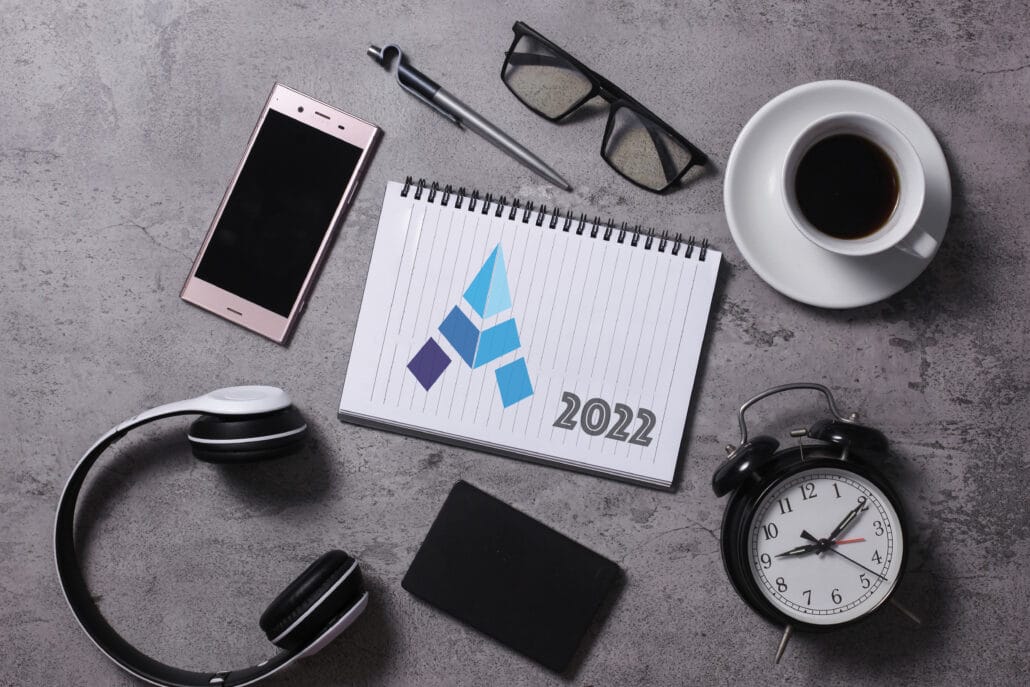 Alternative Funding Group is a private money lender that specializes in helping small businesses get the funding for business they need to grow and succeed. Unlike banks, we don't lend money through our lending partners. Instead, we lend money directly to the small businesses we work with. This allows us to customize each loan to meet your needs. We will work with you to develop an easy-to-understand loan agreement that fits within your budget and gives you the funds you need to achieve your goals!
Alternative Funding Group can help you overcome your challenges.
There are several funding groups online, but not all of them are the same. Some may give you what you need, but others might take advantage of your situation and charge you a lot of fees. Some may even make promises that they will not be able to keep.
When you choose Alternative Funding Group, you will get the best possible deal and help with your loan, regardless of your credit history or type of income. We have helped thousands of people in the past who were in a similar position as you are now.
Alternative Funding Group is a group of experienced professionals who can assist all their clients with getting the loan they need when they need it the most.
AFFG is here to help you and give you a helping hand during tough times. You might think that getting a loan is impossible and that no one would be willing to help because they would judge you or treat you badly because of your financial situation, but that is not true at AFFG! We have worked with many clients like yourself who have had credit issues and managed to solve them and improve their credit scores.
There are many organizations that provide startups with funding, but most of them require a certain amount of equity in return. On the one hand, this makes sense—why would a donor invest in something if he or she didn't think it was going to make money? However, if you're looking for funds to help you get off the ground, you may not be in any position to give away part of your company.
That's why alternative funding groups like Alternative Funding Group exist. We're a private commercial lender, and we provide business funding while also helping small businesses grow.
When you're looking for financing help, we'll understand your needs and won't judge you on your credit history or personal financial situation. We only have one goal: to help small businesses grow by providing capital.
Call us today at (888) 258-6279, so we can discuss your business needs and find a solution that works for both of us.
If your business is young and its initial phases, it needs more funding to invest in new storefront, purchase assets, and several other purposes. You might be thinking about the funding aids that you can use to get the cash.
Both business credit card and merchant cash advance (MCA) make the reasonable options. However, deciding which funding alternative is right might be overwhelming; especially if you are a startup. The article, in this regard highlights the defining features of both the options so you can make an informed decision.
Merchant Cash Advance vs. Business Credit Cards
Understanding Merchant Cash Advance
What is important to understand here is that merchant cash advance is different from a commercial loan. Instead, a MCA process involves a lender who purchases a portion of entrepreneur's future credit card sales and provides him/her a fixed-rate payment.
Business owner then remits a portion of daily credit card sales to repay merchant cash advance directly to the funder.
This feature sets MCA apart from business credit card as business owners do not need strong credit records to receive the funds. All they need is to provide MCA brokers with their bank statement to show that business is excelling and making profits. Businesses might need to submit some more related documents to apply for funds from MCA.
Understanding Business Credit Cards
Business credit cards work like personal cards in many ways. However, banks issue these credit cards to the businesses rather than directly to the people. Business owners get a credit line when they receive a business credit card. The credit limit on the business credit card can go up to $50,000, depending on the business success, its credit scores and plenty of other factors.
Like personal credit cards, business owners get an APR with business credit card. It determines and estimates the interest rate a business has to give if it fails to pay off the credit completely when billing cycle ends. This limit is approximately 15 to 20 percent, depending on the bank a business owner has chosen. However, know that businesses only pay interest if they do not repay their credit amount in full.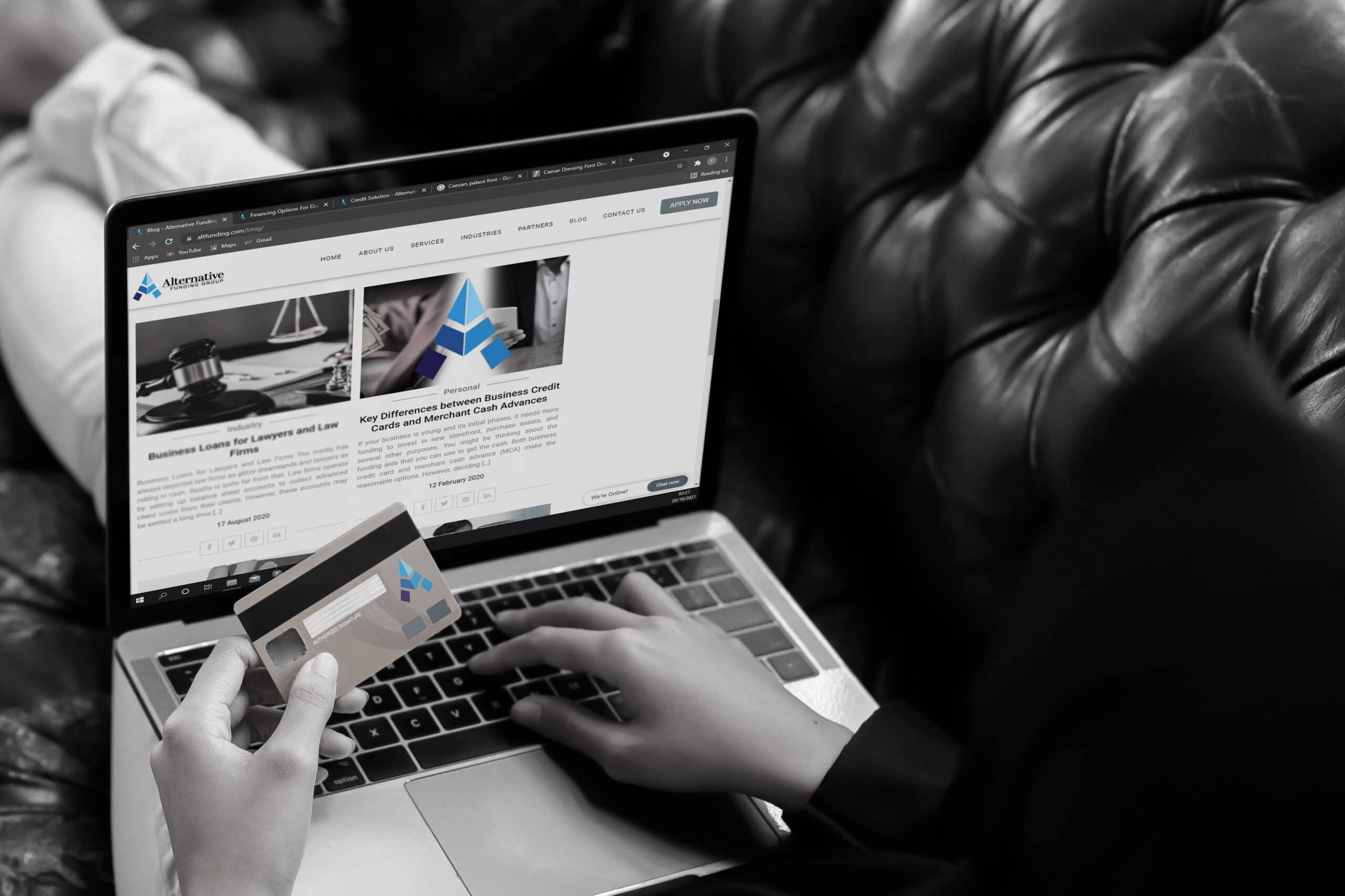 Merchant Cash Advance or Business Credit Cards- Choosing the Right One
Choosing between business credit cards and merchant cash advance depends on the credit score and credit line you have. Not only this, there is a myriad of other factors that are important to consider when you choose the most suitable funding option for you business.
If you want some extra perks and reward points, and have sufficient cash-flow to pay credit each month, business credit cards make a good option. But remember that if you miss out a payment for any reason, it will be added to your interest.
However, if your business does not have good credit and you need a flexible funding solution to get cash for running operations or maintaining cash-flow, MCA is the right option. It suits the needs of young businesses as they do not have the best credit scores.
Final Verdict
Regardless of the option you select, it is important to consult professionals. Alternative Funding is a merchant cash advance broker that has years of experience in the relevant field of business funding and we can provide you with the best funding solution for your business needs. Thus, contact the experts to explore your Business Funding options.
If you own a small business setup, you might find yourself landing in the domain of business loans for several reasons.
Perhaps you just started a business and require funds to purchase equipment and inventory. Maybe you have had a rough patch in your business and looking for funding options to pay your employees. In the best scenario, your business is blooming and you want to expand it, so you need working capital. Whatever is your reason, finding the right funding source is imperative.
Here are some tips you can use to find the best lender or business funding source for your business.
Consider the Category of Lenders
Choosing the right funding option requires you to go through different categories of lenders. You can approach big banks, small banks, and non-bank lender to request funds.
However, funding sources like big banks typically have lengthy loan proceedings and may take longer time to approve the loans. They may have high interest rates. In addition, small businesses struggle to get their loan approved due to their low credit scores.
Non-bank lenders, in this regard make a viable funding source for the newly established businesses. Merchant cash advance, for instance is a funding source that provides instant cash without and hectic or stressful procedure.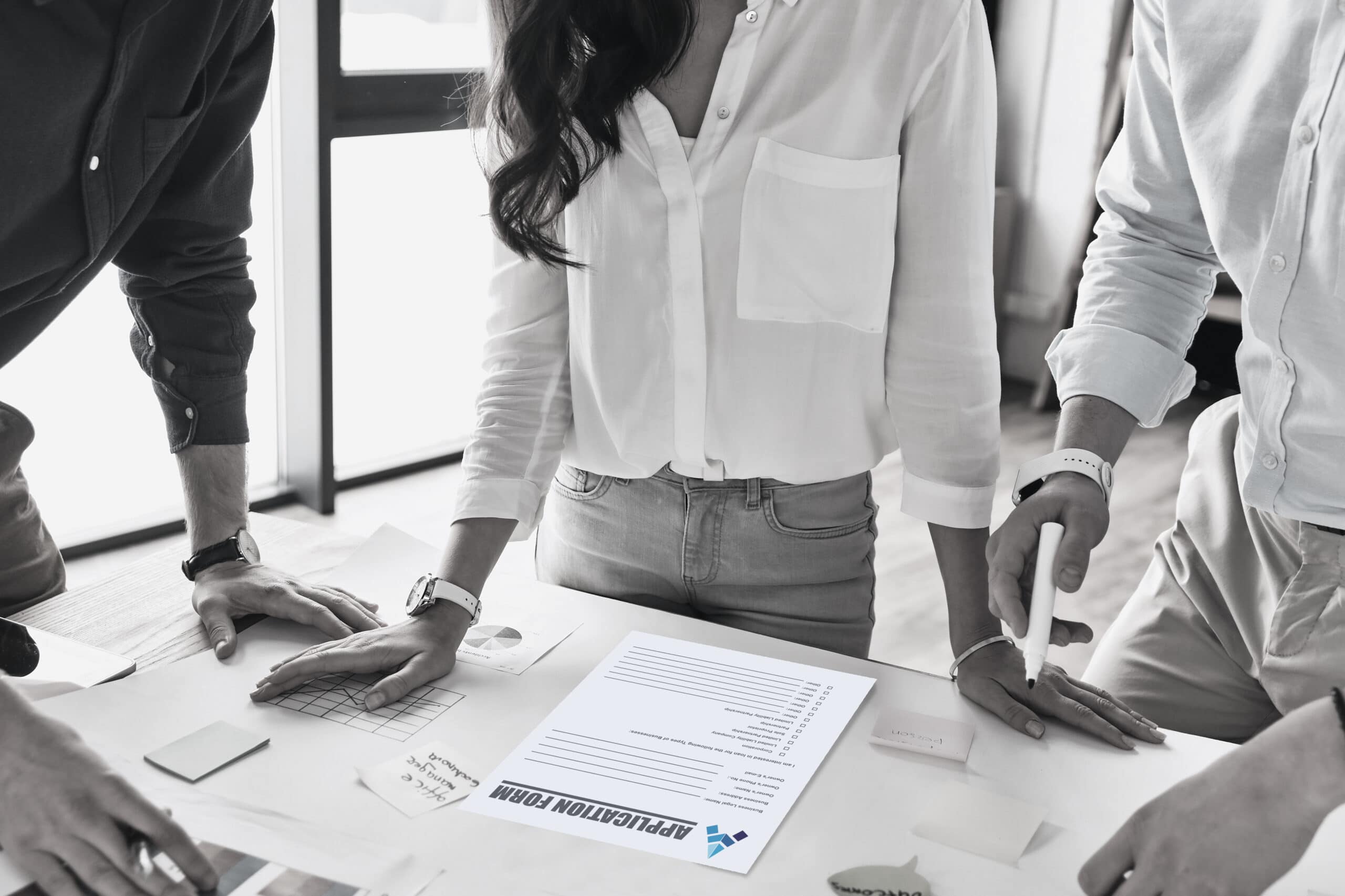 Identify the Type of Funding Source Your Business Needs
This is, without a doubt the most important tip you must consider when finding working capital for your business needs. Here is a list of popular financing options businesses can avail according to their needs.
· Crowdfunding
Business owners can visit Crowdfunding sites to promote their business ideas. They may find people on these platforms who are interested to invest in their business.
· Invoice Financing
Invoice financing is another funding source in which businesses can sell their paid invoices to the factoring companies and get the funds needed.
· Online Loans
Online loans for the businesses are relatively a new funding source and can provide faster approvals as compared to traditional bank loans. Businesses can apply online for funding. Lenders review the application and can approve or deny the funds within minutes.
As mentioned above, Non-bank lending funding sources includes merchant cash advance. This non-bank lending option is not only easy-to-qualify but also allows businesses to repay as a percentage of their credit card sales.
In general, this alternative funding solution is an advance on future receivables from the merchant or business owner and can give 30 to 40 percent of applied funds. There is no denying that short-term payment solution like MCA are very helpful for small businesses and enterprises, as they need quick funding.
In short, if you are a borrower and have less credit rating and could not secure finance from commercial banks, merchant cash advance is the go to solution.
Final Verdict
Overall, choosing the right funding source can be daunting task if you do not have sufficient knowledge about finance alternatives in the loan market. It is always better to consult an expert like Alternative Funding especially when you are opting for the non-bank lending solution.
Small or medium-size businesses getting funding approval within 24 hours is not an uncommon phenomenon nowadays. The odds are if you run a startup or small enterprise and have a seamless internet connection, getting a funding up to thousands of dollars is not a big deal. This is because of the merchant cash advance industry that has become popular among businesses and startups over the last few decades.
That means if you own a small business that often needs a quick infusion of working capital, merchant cash advance can be one of your options to get funds to keep cash flow running. But while choosing any funding option, it is important to do research to make it the right choice and decision for the business.
If you are considering merchant cash advance as a business funding option, it is vital to find out its do's and don'ts to make the most of it.
Merchant Cash Advance
Dos:
Understand Your Agreement
This is, without a doubt one of the essential dos when opting for merchant cash advance. It is vital that you know the correct percentage of daily, weekly, and monthly credit card sale when make partnership with a Broker Company. Understanding the terms and conditions of your agreement will save you from the unexpected surprises in the future.
Tracking expenses of your business is important to determine its standing and the financial decisions you need to take to support it.
Use the Funding Option to Access Operating Capital
If you own a seasonal business, know that merchant cash advance is an easy finance option to get you through off -season times; especially when profits are inconsistent. Do use this option to access operating capital to pay debts, make purchase and repairs during low, off-season.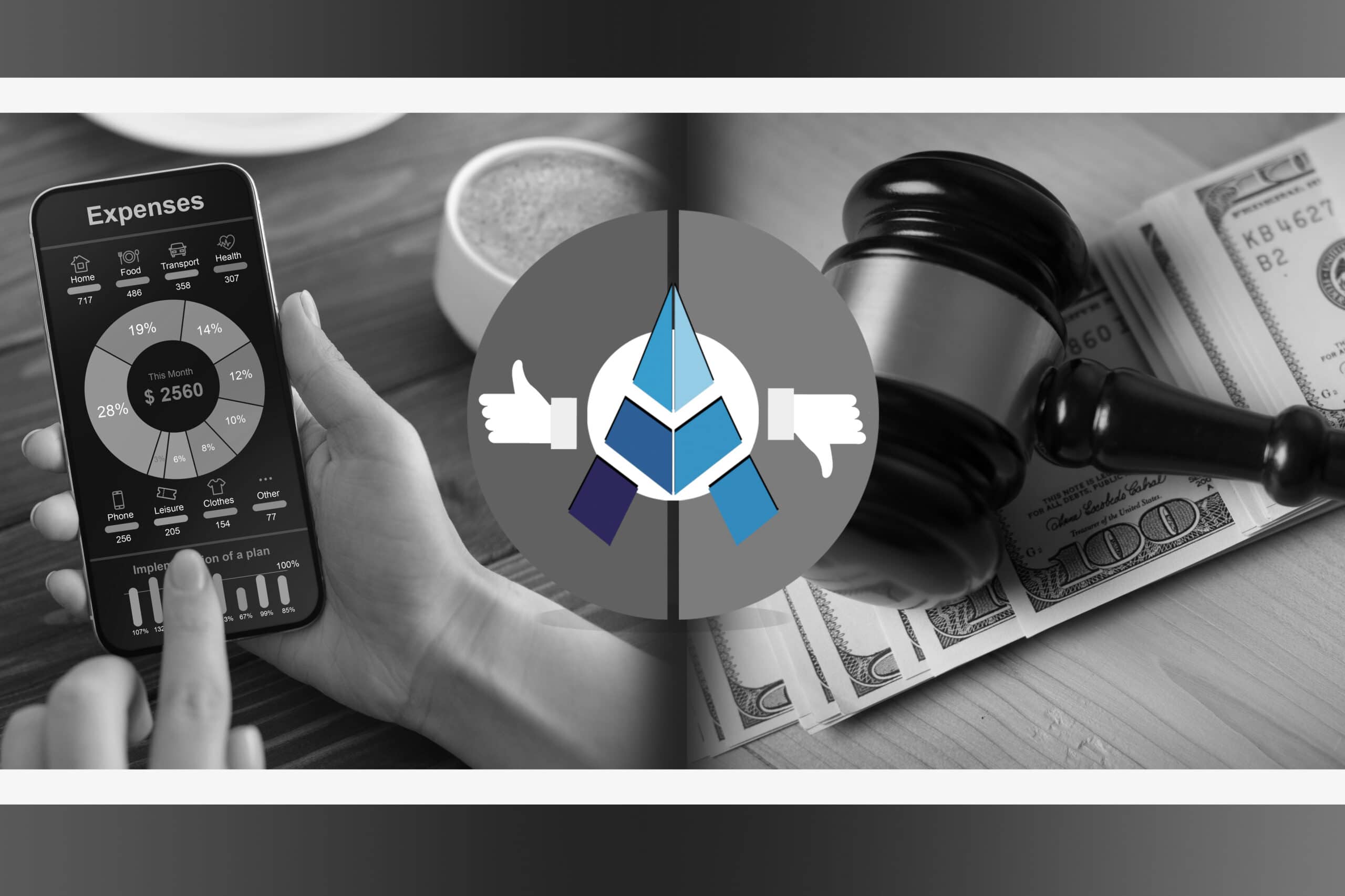 Don'ts
Use Merchant Cash Advance for Personal Expenses
Once you choose merchant cash advance instead of a business loan, you cannot use it for covering the personal expenses or expenditures that are not related or linked to the business. Know that It is one of the stipulations in the MCA's agreement.
Hide the Percentage of Your Business Ownership
This might seem a trivial advice but hiding the percentage of your business ownership when applying for merchant cash advance may have the following results:
Misrepresentation can get your application declined if broker discovers the truth
Misrepresentation may constitute a fraud case on you
Altering lease date, changing/tempering with expiration date, editing out the bank statements or any other blatant alteration may result in application rejection.
Know that merchant cash advance brokers like Alternative Funding are pro in detecting misinterpretations and alterations. Any such attempt is a fraud and crime and may have legal repercussions no matter how small your alteration is.
Final Verdict
Overall, merchant cash advance is a relatively quick, easy, and straightforward option to obtain operating capital for the small business. However, before committing to any form of financing, it is imperative to consult reputable broker such as Alternative Funding to avoid early repayments and additional charges.
When it comes to looking for a safe and viable financial alternative for business, merchant cash advance makes an innovative solution. Although the concept has been around for quite a long time, it is becoming popular with the leisure sector and many retail businesses. Simply put, the merchant cash advance is an option to utilize the card terminals to help businesses secure their lending.
That is what makes it ideal for businesses that do not have many assets but work with a good volume of monthly card transactions. Businesses can make repayments as a proportion of profits and revenues. That makes merchant cash advance not only a quick but also a convenient funding solution for plenty of SMEs. If you take the services of reliable merchant cash advance brokers like Alternative Funding, reaping the benefits of this financing solution becomes easier and hassle-free.
Let's delve into the details to find out what makes merchant cash advance a safe and practical solution for businesses.
Why Merchant Cash Advance is Safe and Viable
· Scalable and Easy Finance Solution
Many businesses make repayments as per the percentage of their revenue. These repayments fluctuate proportionally with the income. That means if your business is making profits and have a steady cash-flow, you can pay back a good amount each month. However, if the business is experiencing a rough patch, you can pay a small amount.
Unlike fixed payments, it makes a good arrangement for the businesses, and they have the reassurance that they can pay back even if they are not making consistent revenues.
· Flexible Repayments
Another benefit that makes merchant cash advance a viable option for your business is its flexible and easy repayments.
In other words, the merchant cash advance makes repayments relatively painless. It happens because both lender and card terminal holders work together. The percentage the card terminal providers take for your repayments does not go to your bank account. They take repayments at source – same as people pay their income tax.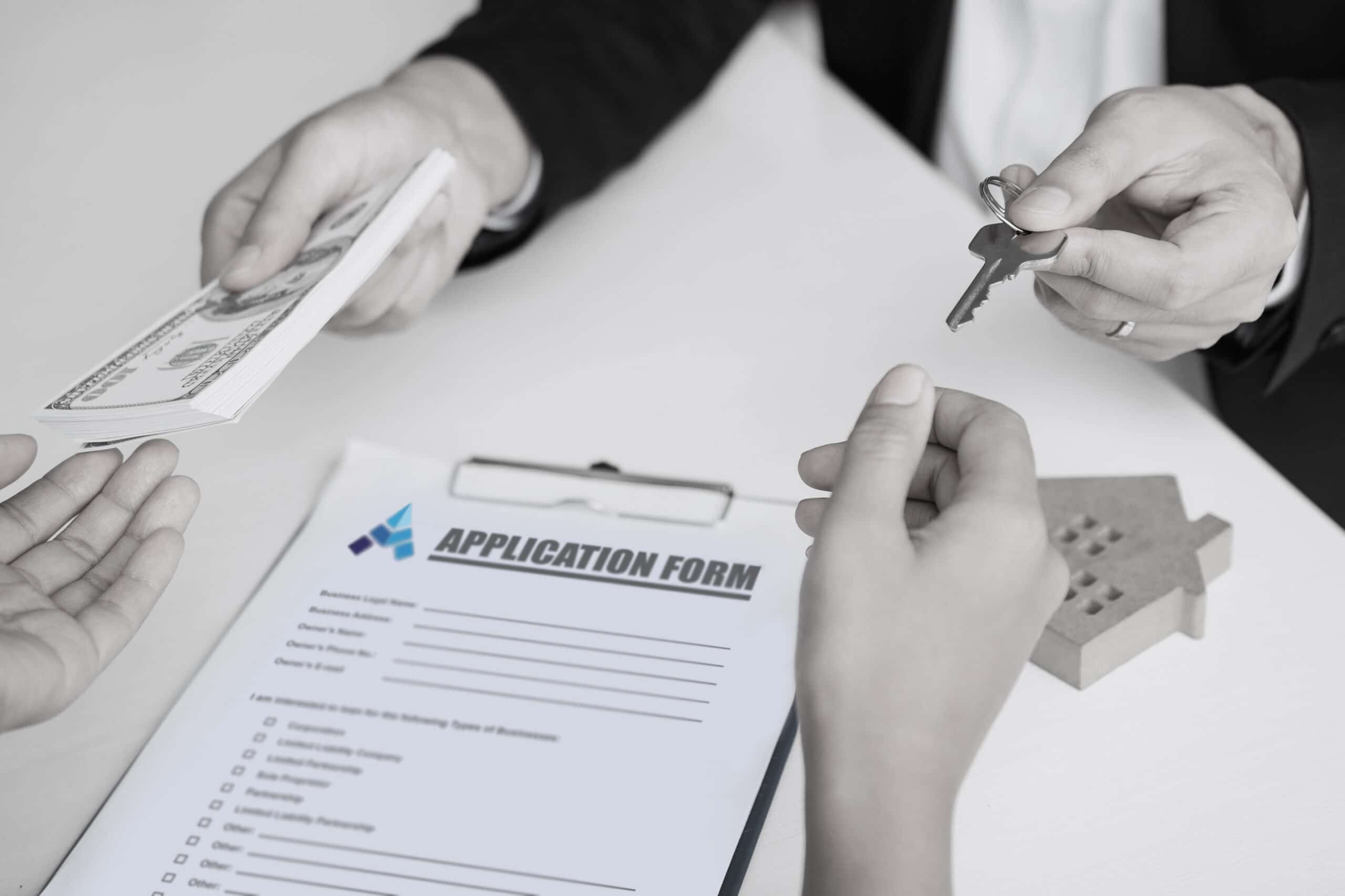 Unlike other finance options, in merchant cash advance, the broker takes the money until a business pays back its debt, making it a hands-off set up for the business owners. This is one way you can have more time to focus on your business instead of worrying about depleting finances.
· Opens Ways for Different Types of Finances
Another important benefit of merchant cash advances is that your business can opt for a wide variety of finances at the same time. With new lines of credit, businesses can avail of different opportunists to improve cash flow and make profits.
For example, if your business has an equipment lease, it is possible to apply for a merchant cash advance to boost the general cash flow of the company.
Bottom Line
Overall, a merchant cash advance is different from conventional lending solutions that may involve high-risks, especially if you are a startup. Easy and comprehensive funding provides personalized payment and finance solutions to speed up the working capital of your business.
Thus, contact the Alternative Funding to discuss your options and get the best guidance for your business funding.
Experiencing inconsistent cash-flow is one of the vital issues of medium and small-sized businesses. Cash is essential not just to pay suppliers but also maintain inventory and invest in business growth. The businesses looking for cash often need to access to a wide variety of financial aids. And merchant cash advance (MCA) is among the popular finance alternatives. Many business owners and entrepreneurs use MCA to overcome cash-flow issues and cop up with tight situations.
Let's delve into the details to find out why MCA can be the best finance solution and how it helps in business funding.
Basics of Merchant Cash Advance
The merchant cash advance (MCA) offers young and medium-sized businesses an alternative funding source. The entrepreneurs can use this funding source when their credit and collateral rating is low or lacking.
Unlike conventional and regular loan systems, MCA refers to purchasing a part of credit card sales (business) to get a specific discount. The MCA broker company receives a lump sum amount when a business signs a contract with it. In return, the business (that has applied for MCA) can take out its credit card sales every month until it reaches the contracted amount.
How Merchant Cash Advance (MCA) Helps Your Business
The attractive loan alternative offers many benefits to help your business manage working capital.
Do not let your Business Lose Credit or Collateral
The merchant cash advance (MCA) is a relatively secure way to get cash. Commercial or traditional loans often decrease credit ratings of the small businesses. MCA, however, depends on the future sales of the business. That is the reason you will not see MCA on your credit report.
Remember that losing collaterals is never a risk with this funding alternative, regardless of the rough patch your business is going through.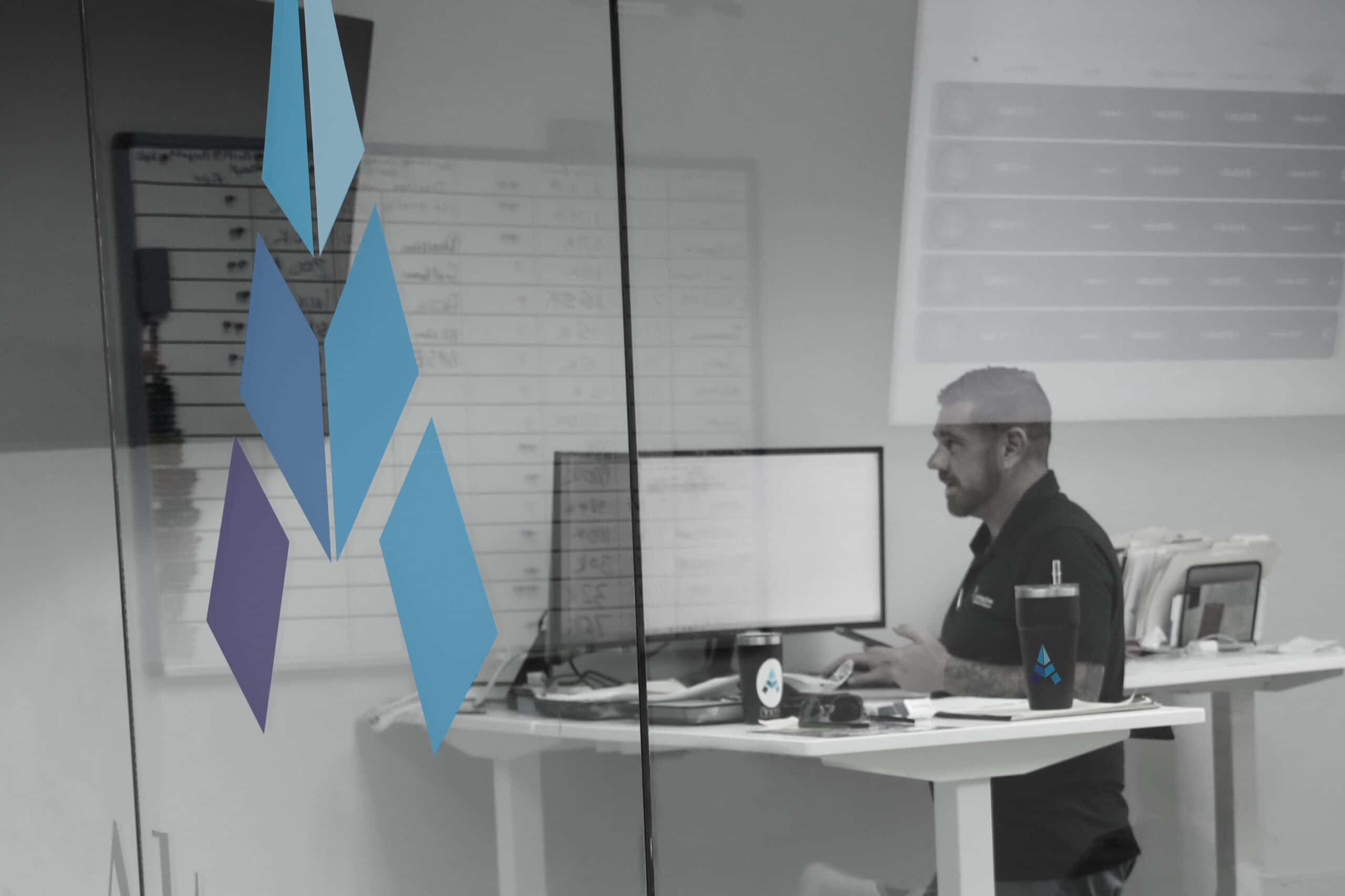 Because it does not involve unnecessary paperwork, the turnaround of merchant cash advance is quite fast. A conventional loan, on the other hand, can take several months to process and grant cash to a business.
MCA funding is generally available to the business owners in less than seven to eight days. This is, without a doubt, a vital benefit when it comes to fulfilling immediate funding needs.
When it comes to comparing MCA's approval rates to the regular conventional bank loans, it becomes clear that it has a higher approval rate. In fact, there is a very low percentage of MCA brokers who deny the advances of businesses. Brokers negotiate and discuss with the entrepreneurs if they notice any problem.
Revenue is Based on Collections
One of the biggest problems with commercial loans is that when profit rates are low, businesses face problems paying their monthly installments. With MCA, the case is different, as businesses only have to repay when they make money.
Final Verdict
Overall, the merchant advance cash makes an important funding source for the businesses which are striving to go through a financial crisis. Hiring the services of a professional merchant cash advance broker like Alternative Funding is an ideal way to maximize the funding benefits for your business.
From an outsider's perspective, doctors are never short on cash. The medical profession is known for its financial rewards, and it's not as if people are going to suddenly stop getting sick one day. Yes, most doctors are compensated very well for their services. Their payment structure, however, isn't as rewarding.
Doctors typically rely on insurance reimbursements, patient deductibles and co-pays for the majority of their income. Between all three sources of cash, the full payment is usually not received until at least one month after an appointment. A doctor's income is usually completely unpredictable.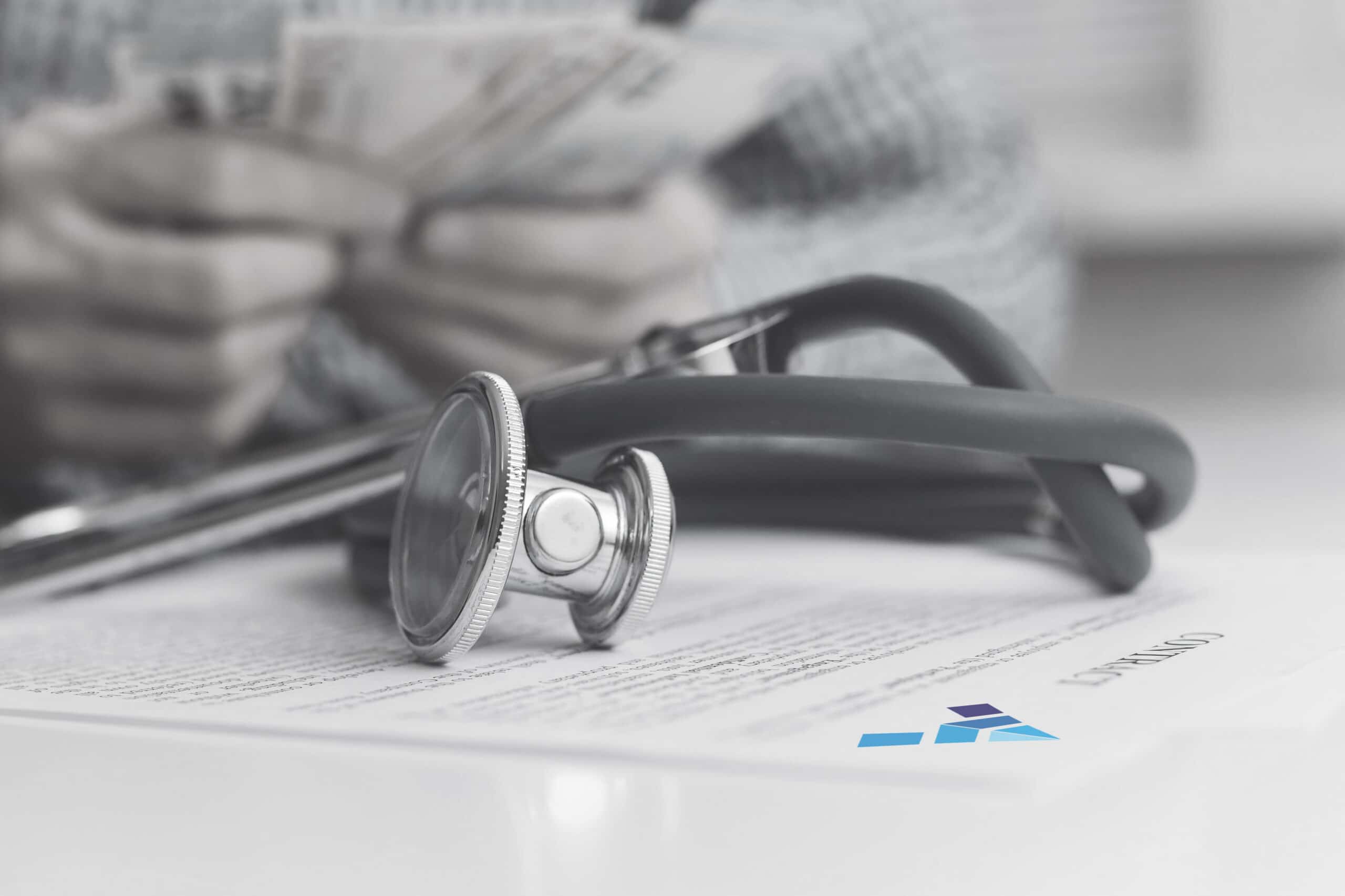 This is money that should go towards paying monthly bills, unforeseen expenses, or growth-related investments. Being unable to cover regular expenses on time is particularly dangerous for doctors because when it's busy, they go through inventory very quickly and are always in need of replenishment. As any business owner will tell you, the longer you wait to cover one expense, the more likely another expense is to arise and the less business you'll be able to do in the meantime.
Relationships between doctors, patients and insurance providers have also only become more complicated as of late. Compensation for certain procedures might seem fairly clear-cut until weeks later, when the doctor finds out the patient and insurer owe different amounts than previously thought. After looking over his or her finances, a doctor could easily discover a $100,000 hole due to unresolved insurance claims and late-paying patients. Doctors can technically get a better sense of timing by constantly chasing down insurers for collections but they are busy enough already.
Alternative Funding provides Small Business Loans for Doctors, Healthcare Professionals & Medical Practices who are waiting on insurance payments and other receivables. These funds can be used for equipment, supplies, furniture, payroll, expansion, remodeling, or any other medical office needs that require cash in hand. Our financing is perfect for practices that find themselves cash poor and struggling to come up with money for immediate expenses. Contact us today for your FREE business funding consultation!
Funding Options For Construction & Contractors
All businesses must spend money in order to make money. Some, however, must spend a lot of money just to stay vital, and as luck would have it, these are the same businesses that do not get paid immediately after their work is done. Construction contractors often have to wait up to 120 days to be paid in full. Milestone payments are catalysts for a laundry list of financial dilemmas, and various external factors can extend this waiting period even further.
Bids can take weeks to approve, and then contract details must be ironed out. How are contractors supposed to pay their workers, fix their equipment, or finance their next project when their funds are tied up in receivables? Construction projects are time sensitive, with no room for negotiation. If the contractor cannot come up with the money for the upcoming project in time, the client will simply find someone else who can have it completed by the desired date.
New investors and unexpectedly inclement weather can cause more delays, as if the winter months weren't painful enough for the contractors. Industry outsiders have probably never thought about how construction companies sustain themselves when their work spaces are covered in snow.


The extended business cycles of construction contractors ultimately prevent them from taking on more work, paying their suppliers on time, and making sound financial decisions. Instead of preparing for projects well ahead of time, the search for workers and equipment begins right after the project is accepted. They don't have the time or money to weigh out options for equipment or consider maintenance costs.
Alternative Funding is the ideal place to get Business Loans for Construction & Contractors. We work with commercial plumbing, roofing firms, electrical contractors, masonry contractors, cement suppliers, window fabricators, fence contractors, and landscapers to name a few. Contact us today for your FREE Business Funding Consultation!
Business Funding Options For Hotels, Motels & Lodging
Most hotels are seasonal businesses. They are located in areas that attract huge crowds but only during certain times of the year. The slow seasons can quickly go from inconvenient to downright treacherous, even for extremely successful hotels. Many are forced to lay off employees, fall behind on vendor payments or postpone vital upgrades. Yes, hoteliers are well-aware of seasonality but it's not always easy to anticipate exactly when revenue will drop or ascertain whether or not they have enough cash to power through a few rough months.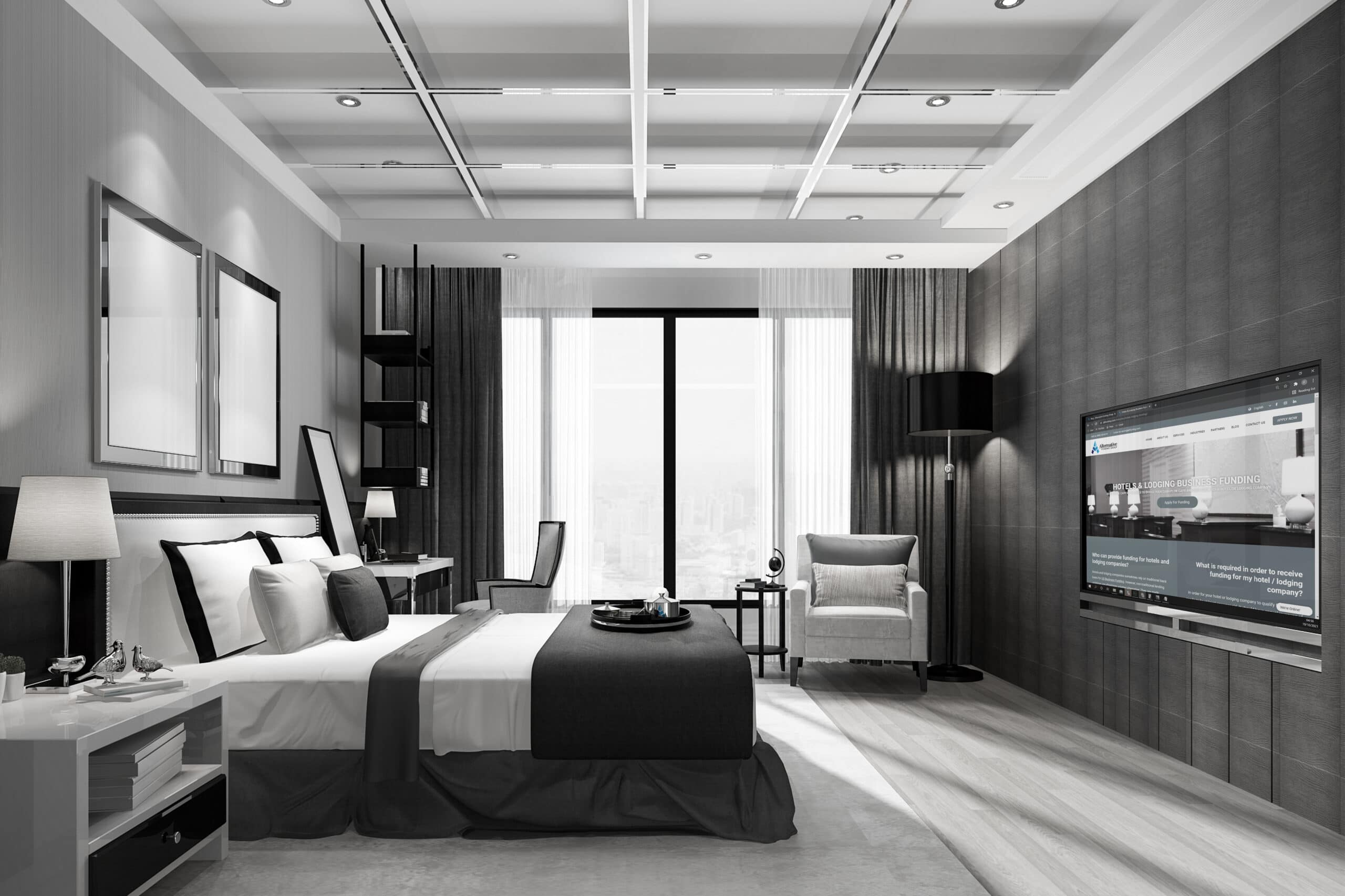 And it's not like the weather for any season is getting easier to predict. Typical conditions, like a snowy winter, a chilly fall or a clear, hot summer aren't so typical anymore. In terms of demand, hotels just don't know what to expect at any given time. These constant ups-and-downs make it very difficult to meet the increasing standards of vacationing clientele.
In order to stay competitive, hotels must have up-to-date TVs, pristine swimming pools, and fresh-looking furniture. People who are planning vacations also make reservations well in advance. With such little cash available during slow periods, hotels risk sending previous guests elsewhere by not marketing to them.
Alternative Funding has many years of experience providing Business Funding Loans for Hotels, Motels & Lodging. We can provide all types of business lending products. Contact us today for your FREE Business Funding Consultation!
Small Business Financing Options For Beauty Salons and Spas
You don't have to be a business expert to envision the cash flow challenges of Beauty Salons & Spas. They are upscale by nature, and must therefore maintain a completely pristine appearance at all times. As if their standard equipment wasn't expensive enough, any emergency repairs or replacements need to be taken care of immediately. You've probably noticed that beauty salons are not a rare find in most towns. But each one manages to stay in business, likely because they possess some sort of unique advantage.
This increasingly competitive environment has prompted many salons to offer more services and/or sell more products. The former strategy requires additional staff and equipment.
Focusing on the latter increases the likelihood of over-spending, leaving you with too much inventory or monthly loan payments you can't afford. This means adding in new equipment such as massage tables, spa chairs, tanning booths, showers, and even hot tubs. And that doesn't begin to cover the expensive skin care lotions and creams, or the maintenance of the equipment, towels and laundry, and scrupulous cleaning needed to keep the facilities looking pristine, beautiful, and welcoming. But building separate revenue streams is key for growth-related initiatives.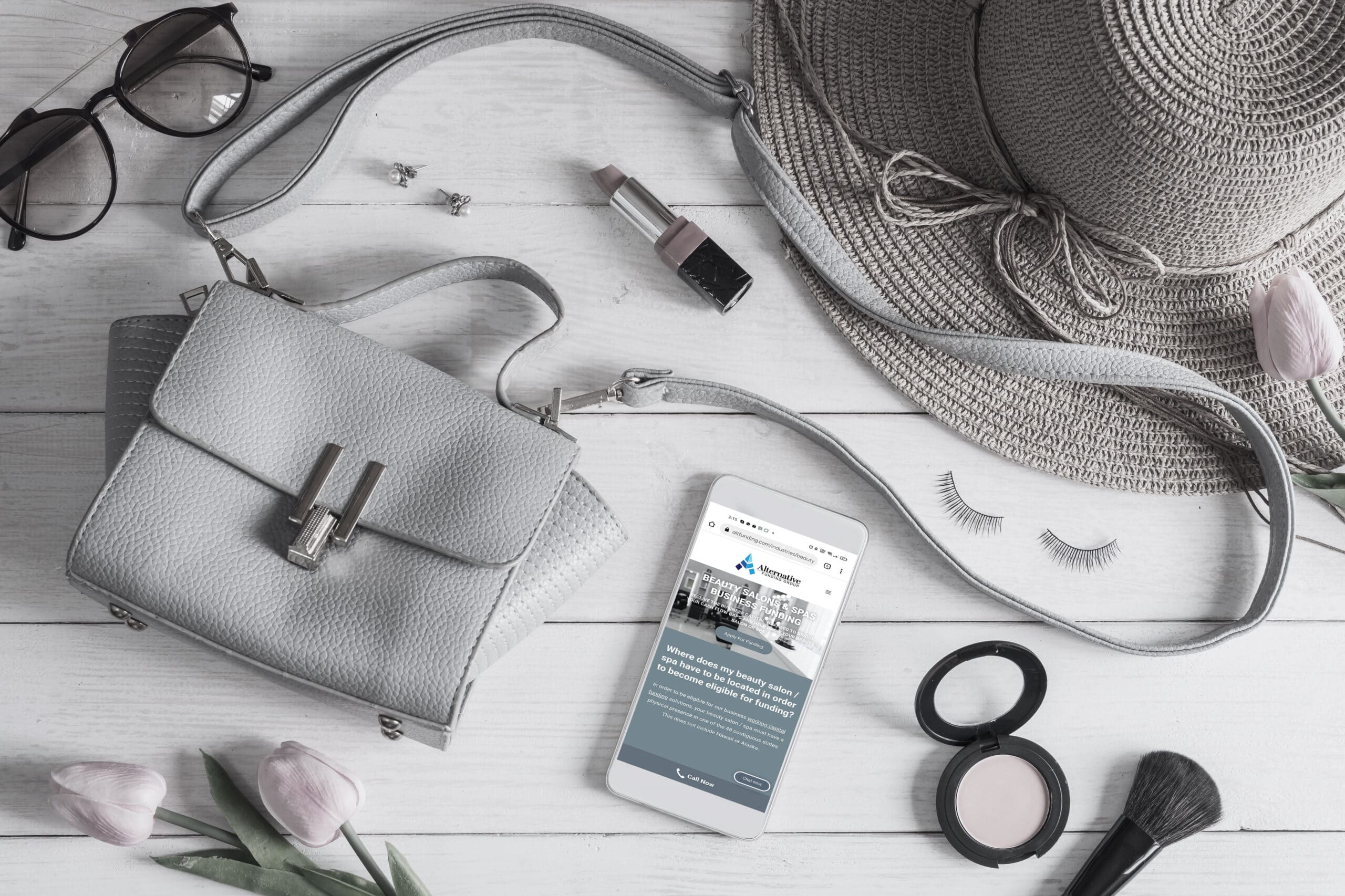 Along with the constant need to expand, what makes the finances of a beauty salon so difficult to manage is unpredictable demand. A glance inside a salon will usually reveal either a full house or a surprisingly empty day. A couple of slow weeks can prevent you from paying your bills on time and as a result, ruin your business credit.
Alternative Funding specializes in Small Business Loans for Beauty Salons & Spas. Contact us today for your FREE Business Funding Consultation!